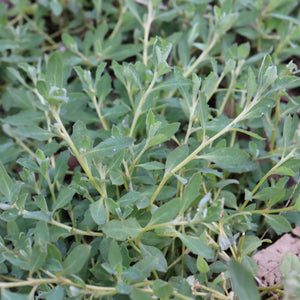 A small creeping spreading erect shrub, with oblong shaped greyish green foliage. 
The habit is evergreen, commonly used as a ground cover to sprawl and climb fences and to control soil erosion. The leaves can be edible once they have been boiled. 
A great found source for native birds.
Found mostly throughout the state of Victoria, it can be used for a rockery garden, birds and lizards eat the fruit.
Height x Width: 30cm x 1-2m
Conditions: Well drained to heavy soil. Full sun to semi-shade 
Flowers: Flowers in small dense clusters which also form red berries which are succulent when ripe in Nov-Feb.