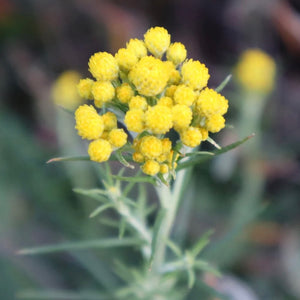 Small aromatic perennial herb with erect cottony-cobwebbed stems and sticky narrow-oblong grey-green leaves.
Found in the coastal heathlands. 
Has dense clusters of small yellow flower-heads. 
Very effective for mass plantings and ideal for mixed borders, rockery and cottage gardens. 
Height x Width: 1m x 1-3m
Conditions: Moist-dry soils. Full Sun-Semi-Shade.
Flowers: Oct-May