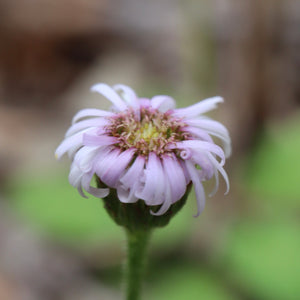 Small Perennial herb, with fibrous roots, spreading from slender underground stems with  basal rosette hairy obovate leaves with two edges. 
Grows white, pink, mauve, purplish flower-heads, below the petals are swollen flower-heads resembling a bottle.  
Can be found in the grassland areas in the Ocean Grove nature reserve. 
Great to use as a ground cover, especially under trees, in pots and baskets. 
Height x Width: 5-25cm x Spreading
Conditions: Moist well drained soils. Full sun to Part Shade, Frost tolerant.
Flowers: Sept-Jan